Review: HMI 2018 – "Connect & Collaborate"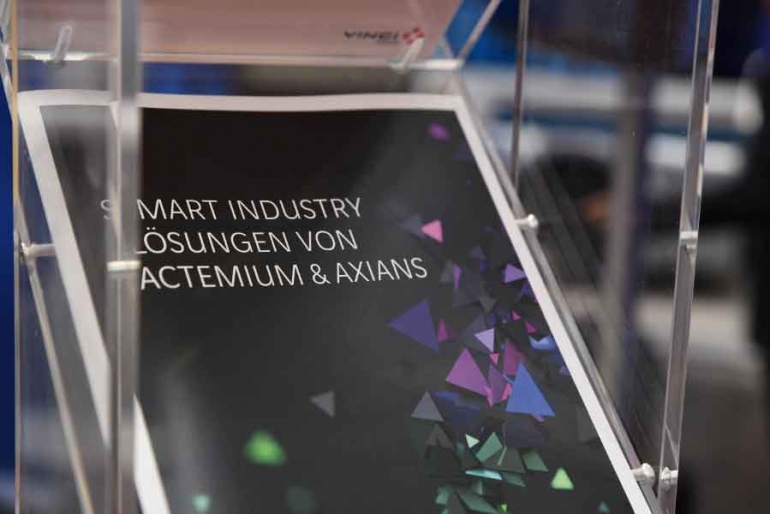 210,000 visitors were counted at this year's Hannover Messe International (HMI), which naturally delighted the more than 5,000 exhibitors from 75 nations! Under the slogan "Connect & Collaborate", renowned leaders of the international technology industry met to discuss opportunities and challenges of digitization, and to present the latest developments in that area.
Augmensys was represented in cooperation with Vinci Energies (partner and shareholder of Augmensys). Due to Vincis strong focus on new technologies, the trade fair appearance was designed accordingly and both, Helmut Guggenbichler and Alexander Mankel, had the chance to display Augmensys at a stunning booth in a top location.
The basic concept of UBIK on a tablet was demonstrated to enthusiastic customers, but the highlight was the UBIK-HoloLens-showcase: visitors could get their hands on the wearable and experience the possibilities of the new technology in a fully working, miniature production facility right on the booth.
The fair was also a complete success in other respects. Exciting discussions led to new customer contacts and a closer cooperation with the renowned manufacturer of industrial hardware, Ecom, was also initiated.
Augmensys GmbH
Development Branch

Hafenstraße 47-51
4020 Linz | Österreich
Augmensys Deutschland GmbH
Loher Straße 1
58332 Schwelm | Deutschland
Augmensys
Desenvolvimento de Software Ltda
Rua Lanciano, 60, Jardim Suzana
São Paulo 04784-190 | Brasilien
Augmensys GmbH
Development Branch

Hafenstraße 47-51
4020 Linz | Österreich
Augmensys Deutschland GmbH
Loher Straße 1
58332 Schwelm | Deutschland
Augmensys
Desenvolvimento de Software Ltda
Rua Lanciano, 60, Jardim Suzana
São Paulo 04784-190 | Brasilien
<style><!-- [et_pb_line_break_holder] -->.horizontal-tab{<!-- [et_pb_line_break_holder] --> border:none;<!-- [et_pb_line_break_holder] -->}<!-- [et_pb_line_break_holder] -->.horizontal-tab .et_pb_tabs_controls<!-- [et_pb_line_break_holder] -->{<!-- [et_pb_line_break_holder] --> background: none;<!-- [et_pb_line_break_holder] -->margin: auto;<!-- [et_pb_line_break_holder] -->margin-bottom:20px;<!-- [et_pb_line_break_holder] -->text-align: center;<!-- [et_pb_line_break_holder] -->}<!-- [et_pb_line_break_holder] -->.horizontal-tab .et_pb_tabs_controls:after<!-- [et_pb_line_break_holder] -->{ <!-- [et_pb_line_break_holder] --> border:none;<!-- [et_pb_line_break_holder] -->}<!-- [et_pb_line_break_holder] -->.horizontal-tab .et_pb_tabs_controls<!-- [et_pb_line_break_holder] -->li{<!-- [et_pb_line_break_holder] -->min-width: 1%;<!-- [et_pb_line_break_holder] -->margin-right: 2%;<!-- [et_pb_line_break_holder] -->display: inline-block;<!-- [et_pb_line_break_holder] -->font-weight: semibold;<!-- [et_pb_line_break_holder] -->float: none;<!-- [et_pb_line_break_holder] -->text-align: center;<!-- [et_pb_line_break_holder] -->padding: 5px 0px 5px;<!-- [et_pb_line_break_holder] --> border:none; <!-- [et_pb_line_break_holder] --> background-color:#ffffffc;<!-- [et_pb_line_break_holder] --> border-radius:30px; <!-- [et_pb_line_break_holder] --> -webkit-transition: all 0.5s ease-in-out;<!-- [et_pb_line_break_holder] --> -moz-transition: all 0.5s ease-in-out;<!-- [et_pb_line_break_holder] --> -o-transition: all 0.5s ease-in-out;<!-- [et_pb_line_break_holder] --> -ms-transition: all 0.5s ease-in-out;<!-- [et_pb_line_break_holder] --> transition: all 0.5s ease-in-out;<!-- [et_pb_line_break_holder] -->}<!-- [et_pb_line_break_holder] -->.horizontal-tab .et_pb_tabs_controls li:hover{<!-- [et_pb_line_break_holder] --> background-color:#ff8700;<!-- [et_pb_line_break_holder] --> <!-- [et_pb_line_break_holder] -->}<!-- [et_pb_line_break_holder] -->.horizontal-tab .et_pb_tabs_controls li:hover a{<!-- [et_pb_line_break_holder] --> color:#fff !important;<!-- [et_pb_line_break_holder] --> <!-- [et_pb_line_break_holder] -->}<!-- [et_pb_line_break_holder] -->.horizontal-tab .et_pb_tabs_controls li.et_pb_tab_active{<!-- [et_pb_line_break_holder] --> background-color:#ff7800;<!-- [et_pb_line_break_holder] -->}<!-- [et_pb_line_break_holder] -->.horizontal-tab .et_pb_tabs_controls li.et_pb_tab_active a{<!-- [et_pb_line_break_holder] --> color: #fff !important; <!-- [et_pb_line_break_holder] -->}<!-- [et_pb_line_break_holder] -->.horizontal-tab.et_pb_tabs .et_pb_tabs_controls li a{<!-- [et_pb_line_break_holder] --> text-align: center;<!-- [et_pb_line_break_holder] --> display: inline;<!-- [et_pb_line_break_holder] --> color: #292929;<!-- [et_pb_line_break_holder] --> font-family:Dosis, Open Sans, Droid Sans !important;<!-- [et_pb_line_break_holder] --> text-transform:uppercase;<!-- [et_pb_line_break_holder] --> font-weight:semibold;<!-- [et_pb_line_break_holder] -->font-size:14px;<!-- [et_pb_line_break_holder] --> line-height:1em !important; <!-- [et_pb_line_break_holder] --> -webkit-transition: all 0.5s ease-in-out;<!-- [et_pb_line_break_holder] --> -moz-transition: all 0.5s ease-in-out;<!-- [et_pb_line_break_holder] --> -o-transition: all 0.5s ease-in-out;<!-- [et_pb_line_break_holder] --> -ms-transition: all 0.5s ease-in-out;<!-- [et_pb_line_break_holder] --> transition: all 0.5s ease-in-out;<!-- [et_pb_line_break_holder] -->}<!-- [et_pb_line_break_holder] -->.horizontal-tab .et_pb_tabs_controls li {<!-- [et_pb_line_break_holder] --> text-align:center;<!-- [et_pb_line_break_holder] -->margin-bottom:20px;<!-- [et_pb_line_break_holder] -->}<!-- [et_pb_line_break_holder] -->.horizontal-tab .et_pb_tab h3{ <!-- [et_pb_line_break_holder] --> color:#ffffff;<!-- [et_pb_line_break_holder] --> text-transform:uppercase;<!-- [et_pb_line_break_holder] --> font-weight:bold;<!-- [et_pb_line_break_holder] -->}<!-- [et_pb_line_break_holder] --><!-- [et_pb_line_break_holder] --></style><!-- [et_pb_line_break_holder] -->
Augmensys GmbH
Development Branch

Hafenstraße 47-51
4020 Linz | Österreich
Augmensys Deutschland GmbH
Loher Straße 1
58332 Schwelm | Deutschland
Augmensys
Desenvolvimento de Software Ltda
Rua Lanciano, 60, Jardim Suzana
São Paulo 04784-190 | Brasilien
<style><!-- [et_pb_line_break_holder] -->.horizontal-tab{<!-- [et_pb_line_break_holder] --> border:none;<!-- [et_pb_line_break_holder] -->}<!-- [et_pb_line_break_holder] -->.horizontal-tab .et_pb_tabs_controls<!-- [et_pb_line_break_holder] -->{<!-- [et_pb_line_break_holder] --> background: none;<!-- [et_pb_line_break_holder] -->margin: auto;<!-- [et_pb_line_break_holder] -->margin-bottom:20px;<!-- [et_pb_line_break_holder] -->text-align: center;<!-- [et_pb_line_break_holder] -->}<!-- [et_pb_line_break_holder] -->.horizontal-tab .et_pb_tabs_controls:after<!-- [et_pb_line_break_holder] -->{ <!-- [et_pb_line_break_holder] --> border:none;<!-- [et_pb_line_break_holder] -->}<!-- [et_pb_line_break_holder] -->.horizontal-tab .et_pb_tabs_controls<!-- [et_pb_line_break_holder] -->li{<!-- [et_pb_line_break_holder] -->min-width: 1%;<!-- [et_pb_line_break_holder] -->margin-right: 2%;<!-- [et_pb_line_break_holder] -->display: inline-block;<!-- [et_pb_line_break_holder] -->font-weight: semibold;<!-- [et_pb_line_break_holder] -->float: none;<!-- [et_pb_line_break_holder] -->text-align: center;<!-- [et_pb_line_break_holder] -->padding: 5px 0px 5px;<!-- [et_pb_line_break_holder] --> border:none; <!-- [et_pb_line_break_holder] --> background-color:#ffffffc;<!-- [et_pb_line_break_holder] --> border-radius:30px; <!-- [et_pb_line_break_holder] --> -webkit-transition: all 0.5s ease-in-out;<!-- [et_pb_line_break_holder] --> -moz-transition: all 0.5s ease-in-out;<!-- [et_pb_line_break_holder] --> -o-transition: all 0.5s ease-in-out;<!-- [et_pb_line_break_holder] --> -ms-transition: all 0.5s ease-in-out;<!-- [et_pb_line_break_holder] --> transition: all 0.5s ease-in-out;<!-- [et_pb_line_break_holder] -->}<!-- [et_pb_line_break_holder] -->.horizontal-tab .et_pb_tabs_controls li:hover{<!-- [et_pb_line_break_holder] --> background-color:#ff8700;<!-- [et_pb_line_break_holder] --> <!-- [et_pb_line_break_holder] -->}<!-- [et_pb_line_break_holder] -->.horizontal-tab .et_pb_tabs_controls li:hover a{<!-- [et_pb_line_break_holder] --> color:#fff !important;<!-- [et_pb_line_break_holder] --> <!-- [et_pb_line_break_holder] -->}<!-- [et_pb_line_break_holder] -->.horizontal-tab .et_pb_tabs_controls li.et_pb_tab_active{<!-- [et_pb_line_break_holder] --> background-color:#ff7800;<!-- [et_pb_line_break_holder] -->}<!-- [et_pb_line_break_holder] -->.horizontal-tab .et_pb_tabs_controls li.et_pb_tab_active a{<!-- [et_pb_line_break_holder] --> color: #fff !important; <!-- [et_pb_line_break_holder] -->}<!-- [et_pb_line_break_holder] -->.horizontal-tab.et_pb_tabs .et_pb_tabs_controls li a{<!-- [et_pb_line_break_holder] --> text-align: center;<!-- [et_pb_line_break_holder] --> display: inline;<!-- [et_pb_line_break_holder] --> color: #292929;<!-- [et_pb_line_break_holder] --> font-family:Dosis, Open Sans, Droid Sans !important;<!-- [et_pb_line_break_holder] --> text-transform:uppercase;<!-- [et_pb_line_break_holder] --> font-weight:semibold;<!-- [et_pb_line_break_holder] -->font-size:14px;<!-- [et_pb_line_break_holder] --> line-height:1em !important; <!-- [et_pb_line_break_holder] --> -webkit-transition: all 0.5s ease-in-out;<!-- [et_pb_line_break_holder] --> -moz-transition: all 0.5s ease-in-out;<!-- [et_pb_line_break_holder] --> -o-transition: all 0.5s ease-in-out;<!-- [et_pb_line_break_holder] --> -ms-transition: all 0.5s ease-in-out;<!-- [et_pb_line_break_holder] --> transition: all 0.5s ease-in-out;<!-- [et_pb_line_break_holder] -->}<!-- [et_pb_line_break_holder] -->.horizontal-tab .et_pb_tabs_controls li {<!-- [et_pb_line_break_holder] --> text-align:center;<!-- [et_pb_line_break_holder] -->margin-bottom:20px;<!-- [et_pb_line_break_holder] -->}<!-- [et_pb_line_break_holder] -->.horizontal-tab .et_pb_tab h3{ <!-- [et_pb_line_break_holder] --> color:#ffffff;<!-- [et_pb_line_break_holder] --> text-transform:uppercase;<!-- [et_pb_line_break_holder] --> font-weight:bold;<!-- [et_pb_line_break_holder] -->}<!-- [et_pb_line_break_holder] --><!-- [et_pb_line_break_holder] --></style><!-- [et_pb_line_break_holder] -->