VDI Conference, Munich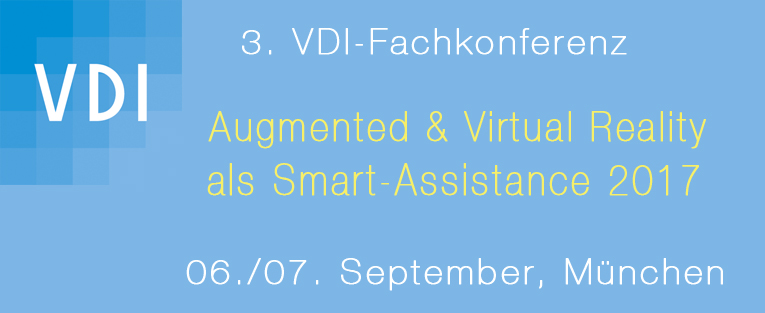 The conference "Augmented and Virtual Reality as Smart Assistance" will take place on 6th and 7th September in Munich.
The focus of the event is on the topic of Augmented and Virtual Reality. Within the framework of this conference, experts from the automotive, mechanical engineering and IT industries will be informing you about the latest developments and trends.
On 6th September at 10.15 am, CEO Helmut Guggenbichler will present the topic: AR and the appropriate hardware. We would be delighted to welcome you!
More information can be found here.
Date:  6th-7th September
Place: Aschheim, Munich
NH München Ost Conference Center
Augmensys GmbH
Development Branch

Hafenstraße 47-51
4020 Linz | Österreich
Augmensys Deutschland GmbH
Loher Straße 1
58332 Schwelm | Deutschland
Augmensys
Desenvolvimento de Software Ltda
Rua Lanciano, 60, Jardim Suzana
São Paulo 04784-190 | Brasilien
Augmensys GmbH
Development Branch

Hafenstraße 47-51
4020 Linz | Österreich
Augmensys Deutschland GmbH
Loher Straße 1
58332 Schwelm | Deutschland
Augmensys
Desenvolvimento de Software Ltda
Rua Lanciano, 60, Jardim Suzana
São Paulo 04784-190 | Brasilien
<style><!-- [et_pb_line_break_holder] -->.horizontal-tab{<!-- [et_pb_line_break_holder] --> border:none;<!-- [et_pb_line_break_holder] -->}<!-- [et_pb_line_break_holder] -->.horizontal-tab .et_pb_tabs_controls<!-- [et_pb_line_break_holder] -->{<!-- [et_pb_line_break_holder] --> background: none;<!-- [et_pb_line_break_holder] -->margin: auto;<!-- [et_pb_line_break_holder] -->margin-bottom:20px;<!-- [et_pb_line_break_holder] -->text-align: center;<!-- [et_pb_line_break_holder] -->}<!-- [et_pb_line_break_holder] -->.horizontal-tab .et_pb_tabs_controls:after<!-- [et_pb_line_break_holder] -->{ <!-- [et_pb_line_break_holder] --> border:none;<!-- [et_pb_line_break_holder] -->}<!-- [et_pb_line_break_holder] -->.horizontal-tab .et_pb_tabs_controls<!-- [et_pb_line_break_holder] -->li{<!-- [et_pb_line_break_holder] -->min-width: 1%;<!-- [et_pb_line_break_holder] -->margin-right: 2%;<!-- [et_pb_line_break_holder] -->display: inline-block;<!-- [et_pb_line_break_holder] -->font-weight: semibold;<!-- [et_pb_line_break_holder] -->float: none;<!-- [et_pb_line_break_holder] -->text-align: center;<!-- [et_pb_line_break_holder] -->padding: 5px 0px 5px;<!-- [et_pb_line_break_holder] --> border:none; <!-- [et_pb_line_break_holder] --> background-color:#ffffffc;<!-- [et_pb_line_break_holder] --> border-radius:30px; <!-- [et_pb_line_break_holder] --> -webkit-transition: all 0.5s ease-in-out;<!-- [et_pb_line_break_holder] --> -moz-transition: all 0.5s ease-in-out;<!-- [et_pb_line_break_holder] --> -o-transition: all 0.5s ease-in-out;<!-- [et_pb_line_break_holder] --> -ms-transition: all 0.5s ease-in-out;<!-- [et_pb_line_break_holder] --> transition: all 0.5s ease-in-out;<!-- [et_pb_line_break_holder] -->}<!-- [et_pb_line_break_holder] -->.horizontal-tab .et_pb_tabs_controls li:hover{<!-- [et_pb_line_break_holder] --> background-color:#ff8700;<!-- [et_pb_line_break_holder] --> <!-- [et_pb_line_break_holder] -->}<!-- [et_pb_line_break_holder] -->.horizontal-tab .et_pb_tabs_controls li:hover a{<!-- [et_pb_line_break_holder] --> color:#fff !important;<!-- [et_pb_line_break_holder] --> <!-- [et_pb_line_break_holder] -->}<!-- [et_pb_line_break_holder] -->.horizontal-tab .et_pb_tabs_controls li.et_pb_tab_active{<!-- [et_pb_line_break_holder] --> background-color:#ff7800;<!-- [et_pb_line_break_holder] -->}<!-- [et_pb_line_break_holder] -->.horizontal-tab .et_pb_tabs_controls li.et_pb_tab_active a{<!-- [et_pb_line_break_holder] --> color: #fff !important; <!-- [et_pb_line_break_holder] -->}<!-- [et_pb_line_break_holder] -->.horizontal-tab.et_pb_tabs .et_pb_tabs_controls li a{<!-- [et_pb_line_break_holder] --> text-align: center;<!-- [et_pb_line_break_holder] --> display: inline;<!-- [et_pb_line_break_holder] --> color: #292929;<!-- [et_pb_line_break_holder] --> font-family:Dosis, Open Sans, Droid Sans !important;<!-- [et_pb_line_break_holder] --> text-transform:uppercase;<!-- [et_pb_line_break_holder] --> font-weight:semibold;<!-- [et_pb_line_break_holder] -->font-size:14px;<!-- [et_pb_line_break_holder] --> line-height:1em !important; <!-- [et_pb_line_break_holder] --> -webkit-transition: all 0.5s ease-in-out;<!-- [et_pb_line_break_holder] --> -moz-transition: all 0.5s ease-in-out;<!-- [et_pb_line_break_holder] --> -o-transition: all 0.5s ease-in-out;<!-- [et_pb_line_break_holder] --> -ms-transition: all 0.5s ease-in-out;<!-- [et_pb_line_break_holder] --> transition: all 0.5s ease-in-out;<!-- [et_pb_line_break_holder] -->}<!-- [et_pb_line_break_holder] -->.horizontal-tab .et_pb_tabs_controls li {<!-- [et_pb_line_break_holder] --> text-align:center;<!-- [et_pb_line_break_holder] -->margin-bottom:20px;<!-- [et_pb_line_break_holder] -->}<!-- [et_pb_line_break_holder] -->.horizontal-tab .et_pb_tab h3{ <!-- [et_pb_line_break_holder] --> color:#ffffff;<!-- [et_pb_line_break_holder] --> text-transform:uppercase;<!-- [et_pb_line_break_holder] --> font-weight:bold;<!-- [et_pb_line_break_holder] -->}<!-- [et_pb_line_break_holder] --><!-- [et_pb_line_break_holder] --></style><!-- [et_pb_line_break_holder] -->
Augmensys GmbH
Development Branch

Hafenstraße 47-51
4020 Linz | Österreich
Augmensys Deutschland GmbH
Loher Straße 1
58332 Schwelm | Deutschland
Augmensys
Desenvolvimento de Software Ltda
Rua Lanciano, 60, Jardim Suzana
São Paulo 04784-190 | Brasilien
<style><!-- [et_pb_line_break_holder] -->.horizontal-tab{<!-- [et_pb_line_break_holder] --> border:none;<!-- [et_pb_line_break_holder] -->}<!-- [et_pb_line_break_holder] -->.horizontal-tab .et_pb_tabs_controls<!-- [et_pb_line_break_holder] -->{<!-- [et_pb_line_break_holder] --> background: none;<!-- [et_pb_line_break_holder] -->margin: auto;<!-- [et_pb_line_break_holder] -->margin-bottom:20px;<!-- [et_pb_line_break_holder] -->text-align: center;<!-- [et_pb_line_break_holder] -->}<!-- [et_pb_line_break_holder] -->.horizontal-tab .et_pb_tabs_controls:after<!-- [et_pb_line_break_holder] -->{ <!-- [et_pb_line_break_holder] --> border:none;<!-- [et_pb_line_break_holder] -->}<!-- [et_pb_line_break_holder] -->.horizontal-tab .et_pb_tabs_controls<!-- [et_pb_line_break_holder] -->li{<!-- [et_pb_line_break_holder] -->min-width: 1%;<!-- [et_pb_line_break_holder] -->margin-right: 2%;<!-- [et_pb_line_break_holder] -->display: inline-block;<!-- [et_pb_line_break_holder] -->font-weight: semibold;<!-- [et_pb_line_break_holder] -->float: none;<!-- [et_pb_line_break_holder] -->text-align: center;<!-- [et_pb_line_break_holder] -->padding: 5px 0px 5px;<!-- [et_pb_line_break_holder] --> border:none; <!-- [et_pb_line_break_holder] --> background-color:#ffffffc;<!-- [et_pb_line_break_holder] --> border-radius:30px; <!-- [et_pb_line_break_holder] --> -webkit-transition: all 0.5s ease-in-out;<!-- [et_pb_line_break_holder] --> -moz-transition: all 0.5s ease-in-out;<!-- [et_pb_line_break_holder] --> -o-transition: all 0.5s ease-in-out;<!-- [et_pb_line_break_holder] --> -ms-transition: all 0.5s ease-in-out;<!-- [et_pb_line_break_holder] --> transition: all 0.5s ease-in-out;<!-- [et_pb_line_break_holder] -->}<!-- [et_pb_line_break_holder] -->.horizontal-tab .et_pb_tabs_controls li:hover{<!-- [et_pb_line_break_holder] --> background-color:#ff8700;<!-- [et_pb_line_break_holder] --> <!-- [et_pb_line_break_holder] -->}<!-- [et_pb_line_break_holder] -->.horizontal-tab .et_pb_tabs_controls li:hover a{<!-- [et_pb_line_break_holder] --> color:#fff !important;<!-- [et_pb_line_break_holder] --> <!-- [et_pb_line_break_holder] -->}<!-- [et_pb_line_break_holder] -->.horizontal-tab .et_pb_tabs_controls li.et_pb_tab_active{<!-- [et_pb_line_break_holder] --> background-color:#ff7800;<!-- [et_pb_line_break_holder] -->}<!-- [et_pb_line_break_holder] -->.horizontal-tab .et_pb_tabs_controls li.et_pb_tab_active a{<!-- [et_pb_line_break_holder] --> color: #fff !important; <!-- [et_pb_line_break_holder] -->}<!-- [et_pb_line_break_holder] -->.horizontal-tab.et_pb_tabs .et_pb_tabs_controls li a{<!-- [et_pb_line_break_holder] --> text-align: center;<!-- [et_pb_line_break_holder] --> display: inline;<!-- [et_pb_line_break_holder] --> color: #292929;<!-- [et_pb_line_break_holder] --> font-family:Dosis, Open Sans, Droid Sans !important;<!-- [et_pb_line_break_holder] --> text-transform:uppercase;<!-- [et_pb_line_break_holder] --> font-weight:semibold;<!-- [et_pb_line_break_holder] -->font-size:14px;<!-- [et_pb_line_break_holder] --> line-height:1em !important; <!-- [et_pb_line_break_holder] --> -webkit-transition: all 0.5s ease-in-out;<!-- [et_pb_line_break_holder] --> -moz-transition: all 0.5s ease-in-out;<!-- [et_pb_line_break_holder] --> -o-transition: all 0.5s ease-in-out;<!-- [et_pb_line_break_holder] --> -ms-transition: all 0.5s ease-in-out;<!-- [et_pb_line_break_holder] --> transition: all 0.5s ease-in-out;<!-- [et_pb_line_break_holder] -->}<!-- [et_pb_line_break_holder] -->.horizontal-tab .et_pb_tabs_controls li {<!-- [et_pb_line_break_holder] --> text-align:center;<!-- [et_pb_line_break_holder] -->margin-bottom:20px;<!-- [et_pb_line_break_holder] -->}<!-- [et_pb_line_break_holder] -->.horizontal-tab .et_pb_tab h3{ <!-- [et_pb_line_break_holder] --> color:#ffffff;<!-- [et_pb_line_break_holder] --> text-transform:uppercase;<!-- [et_pb_line_break_holder] --> font-weight:bold;<!-- [et_pb_line_break_holder] -->}<!-- [et_pb_line_break_holder] --><!-- [et_pb_line_break_holder] --></style><!-- [et_pb_line_break_holder] -->