InFo 2017 – InstandhaltungsForum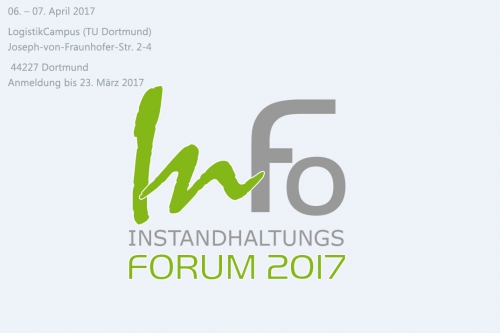 The maintenance forum has been THE networking platform in the maintenance sector for more than 30 years.
In the dialogue between practice and science, current and future topics of maintenance are always addressed in order to provide new impetus.
In the 17th edition of the forum, the main focus is on the presentation of concrete examples (sessions) and experience values of maintenance for industry 4.0 – the Smart Maintenance.
Alexander Mankel, CEO of Augmensys Germany, will be present at a joint session with our partner Actemium on April the 6th at 3:30 pm.
Date: 06th – 07th 2017
LogistikCampus (TU Dortmund)
Joseph-von-Fraunhofer-Str. 2-4
4227 Dortmund, Germany
Registration until March 23th
click here for further Information. (only available in German)
Augmensys GmbH
Development Branch

Hafenstraße 47-51
4020 Linz | Österreich
Augmensys Deutschland GmbH
Loher Straße 1
58332 Schwelm | Deutschland
Augmensys
Desenvolvimento de Software Ltda
Rua Lanciano, 60, Jardim Suzana
São Paulo 04784-190 | Brasilien
Augmensys GmbH
Development Branch

Hafenstraße 47-51
4020 Linz | Österreich
Augmensys Deutschland GmbH
Loher Straße 1
58332 Schwelm | Deutschland
Augmensys
Desenvolvimento de Software Ltda
Rua Lanciano, 60, Jardim Suzana
São Paulo 04784-190 | Brasilien
<style><!-- [et_pb_line_break_holder] -->.horizontal-tab{<!-- [et_pb_line_break_holder] --> border:none;<!-- [et_pb_line_break_holder] -->}<!-- [et_pb_line_break_holder] -->.horizontal-tab .et_pb_tabs_controls<!-- [et_pb_line_break_holder] -->{<!-- [et_pb_line_break_holder] --> background: none;<!-- [et_pb_line_break_holder] -->margin: auto;<!-- [et_pb_line_break_holder] -->margin-bottom:20px;<!-- [et_pb_line_break_holder] -->text-align: center;<!-- [et_pb_line_break_holder] -->}<!-- [et_pb_line_break_holder] -->.horizontal-tab .et_pb_tabs_controls:after<!-- [et_pb_line_break_holder] -->{ <!-- [et_pb_line_break_holder] --> border:none;<!-- [et_pb_line_break_holder] -->}<!-- [et_pb_line_break_holder] -->.horizontal-tab .et_pb_tabs_controls<!-- [et_pb_line_break_holder] -->li{<!-- [et_pb_line_break_holder] -->min-width: 1%;<!-- [et_pb_line_break_holder] -->margin-right: 2%;<!-- [et_pb_line_break_holder] -->display: inline-block;<!-- [et_pb_line_break_holder] -->font-weight: semibold;<!-- [et_pb_line_break_holder] -->float: none;<!-- [et_pb_line_break_holder] -->text-align: center;<!-- [et_pb_line_break_holder] -->padding: 5px 0px 5px;<!-- [et_pb_line_break_holder] --> border:none; <!-- [et_pb_line_break_holder] --> background-color:#ffffffc;<!-- [et_pb_line_break_holder] --> border-radius:30px; <!-- [et_pb_line_break_holder] --> -webkit-transition: all 0.5s ease-in-out;<!-- [et_pb_line_break_holder] --> -moz-transition: all 0.5s ease-in-out;<!-- [et_pb_line_break_holder] --> -o-transition: all 0.5s ease-in-out;<!-- [et_pb_line_break_holder] --> -ms-transition: all 0.5s ease-in-out;<!-- [et_pb_line_break_holder] --> transition: all 0.5s ease-in-out;<!-- [et_pb_line_break_holder] -->}<!-- [et_pb_line_break_holder] -->.horizontal-tab .et_pb_tabs_controls li:hover{<!-- [et_pb_line_break_holder] --> background-color:#ff8700;<!-- [et_pb_line_break_holder] --> <!-- [et_pb_line_break_holder] -->}<!-- [et_pb_line_break_holder] -->.horizontal-tab .et_pb_tabs_controls li:hover a{<!-- [et_pb_line_break_holder] --> color:#fff !important;<!-- [et_pb_line_break_holder] --> <!-- [et_pb_line_break_holder] -->}<!-- [et_pb_line_break_holder] -->.horizontal-tab .et_pb_tabs_controls li.et_pb_tab_active{<!-- [et_pb_line_break_holder] --> background-color:#ff7800;<!-- [et_pb_line_break_holder] -->}<!-- [et_pb_line_break_holder] -->.horizontal-tab .et_pb_tabs_controls li.et_pb_tab_active a{<!-- [et_pb_line_break_holder] --> color: #fff !important; <!-- [et_pb_line_break_holder] -->}<!-- [et_pb_line_break_holder] -->.horizontal-tab.et_pb_tabs .et_pb_tabs_controls li a{<!-- [et_pb_line_break_holder] --> text-align: center;<!-- [et_pb_line_break_holder] --> display: inline;<!-- [et_pb_line_break_holder] --> color: #292929;<!-- [et_pb_line_break_holder] --> font-family:Dosis, Open Sans, Droid Sans !important;<!-- [et_pb_line_break_holder] --> text-transform:uppercase;<!-- [et_pb_line_break_holder] --> font-weight:semibold;<!-- [et_pb_line_break_holder] -->font-size:14px;<!-- [et_pb_line_break_holder] --> line-height:1em !important; <!-- [et_pb_line_break_holder] --> -webkit-transition: all 0.5s ease-in-out;<!-- [et_pb_line_break_holder] --> -moz-transition: all 0.5s ease-in-out;<!-- [et_pb_line_break_holder] --> -o-transition: all 0.5s ease-in-out;<!-- [et_pb_line_break_holder] --> -ms-transition: all 0.5s ease-in-out;<!-- [et_pb_line_break_holder] --> transition: all 0.5s ease-in-out;<!-- [et_pb_line_break_holder] -->}<!-- [et_pb_line_break_holder] -->.horizontal-tab .et_pb_tabs_controls li {<!-- [et_pb_line_break_holder] --> text-align:center;<!-- [et_pb_line_break_holder] -->margin-bottom:20px;<!-- [et_pb_line_break_holder] -->}<!-- [et_pb_line_break_holder] -->.horizontal-tab .et_pb_tab h3{ <!-- [et_pb_line_break_holder] --> color:#ffffff;<!-- [et_pb_line_break_holder] --> text-transform:uppercase;<!-- [et_pb_line_break_holder] --> font-weight:bold;<!-- [et_pb_line_break_holder] -->}<!-- [et_pb_line_break_holder] --><!-- [et_pb_line_break_holder] --></style><!-- [et_pb_line_break_holder] -->
Augmensys GmbH
Development Branch

Hafenstraße 47-51
4020 Linz | Österreich
Augmensys Deutschland GmbH
Loher Straße 1
58332 Schwelm | Deutschland
Augmensys
Desenvolvimento de Software Ltda
Rua Lanciano, 60, Jardim Suzana
São Paulo 04784-190 | Brasilien
<style><!-- [et_pb_line_break_holder] -->.horizontal-tab{<!-- [et_pb_line_break_holder] --> border:none;<!-- [et_pb_line_break_holder] -->}<!-- [et_pb_line_break_holder] -->.horizontal-tab .et_pb_tabs_controls<!-- [et_pb_line_break_holder] -->{<!-- [et_pb_line_break_holder] --> background: none;<!-- [et_pb_line_break_holder] -->margin: auto;<!-- [et_pb_line_break_holder] -->margin-bottom:20px;<!-- [et_pb_line_break_holder] -->text-align: center;<!-- [et_pb_line_break_holder] -->}<!-- [et_pb_line_break_holder] -->.horizontal-tab .et_pb_tabs_controls:after<!-- [et_pb_line_break_holder] -->{ <!-- [et_pb_line_break_holder] --> border:none;<!-- [et_pb_line_break_holder] -->}<!-- [et_pb_line_break_holder] -->.horizontal-tab .et_pb_tabs_controls<!-- [et_pb_line_break_holder] -->li{<!-- [et_pb_line_break_holder] -->min-width: 1%;<!-- [et_pb_line_break_holder] -->margin-right: 2%;<!-- [et_pb_line_break_holder] -->display: inline-block;<!-- [et_pb_line_break_holder] -->font-weight: semibold;<!-- [et_pb_line_break_holder] -->float: none;<!-- [et_pb_line_break_holder] -->text-align: center;<!-- [et_pb_line_break_holder] -->padding: 5px 0px 5px;<!-- [et_pb_line_break_holder] --> border:none; <!-- [et_pb_line_break_holder] --> background-color:#ffffffc;<!-- [et_pb_line_break_holder] --> border-radius:30px; <!-- [et_pb_line_break_holder] --> -webkit-transition: all 0.5s ease-in-out;<!-- [et_pb_line_break_holder] --> -moz-transition: all 0.5s ease-in-out;<!-- [et_pb_line_break_holder] --> -o-transition: all 0.5s ease-in-out;<!-- [et_pb_line_break_holder] --> -ms-transition: all 0.5s ease-in-out;<!-- [et_pb_line_break_holder] --> transition: all 0.5s ease-in-out;<!-- [et_pb_line_break_holder] -->}<!-- [et_pb_line_break_holder] -->.horizontal-tab .et_pb_tabs_controls li:hover{<!-- [et_pb_line_break_holder] --> background-color:#ff8700;<!-- [et_pb_line_break_holder] --> <!-- [et_pb_line_break_holder] -->}<!-- [et_pb_line_break_holder] -->.horizontal-tab .et_pb_tabs_controls li:hover a{<!-- [et_pb_line_break_holder] --> color:#fff !important;<!-- [et_pb_line_break_holder] --> <!-- [et_pb_line_break_holder] -->}<!-- [et_pb_line_break_holder] -->.horizontal-tab .et_pb_tabs_controls li.et_pb_tab_active{<!-- [et_pb_line_break_holder] --> background-color:#ff7800;<!-- [et_pb_line_break_holder] -->}<!-- [et_pb_line_break_holder] -->.horizontal-tab .et_pb_tabs_controls li.et_pb_tab_active a{<!-- [et_pb_line_break_holder] --> color: #fff !important; <!-- [et_pb_line_break_holder] -->}<!-- [et_pb_line_break_holder] -->.horizontal-tab.et_pb_tabs .et_pb_tabs_controls li a{<!-- [et_pb_line_break_holder] --> text-align: center;<!-- [et_pb_line_break_holder] --> display: inline;<!-- [et_pb_line_break_holder] --> color: #292929;<!-- [et_pb_line_break_holder] --> font-family:Dosis, Open Sans, Droid Sans !important;<!-- [et_pb_line_break_holder] --> text-transform:uppercase;<!-- [et_pb_line_break_holder] --> font-weight:semibold;<!-- [et_pb_line_break_holder] -->font-size:14px;<!-- [et_pb_line_break_holder] --> line-height:1em !important; <!-- [et_pb_line_break_holder] --> -webkit-transition: all 0.5s ease-in-out;<!-- [et_pb_line_break_holder] --> -moz-transition: all 0.5s ease-in-out;<!-- [et_pb_line_break_holder] --> -o-transition: all 0.5s ease-in-out;<!-- [et_pb_line_break_holder] --> -ms-transition: all 0.5s ease-in-out;<!-- [et_pb_line_break_holder] --> transition: all 0.5s ease-in-out;<!-- [et_pb_line_break_holder] -->}<!-- [et_pb_line_break_holder] -->.horizontal-tab .et_pb_tabs_controls li {<!-- [et_pb_line_break_holder] --> text-align:center;<!-- [et_pb_line_break_holder] -->margin-bottom:20px;<!-- [et_pb_line_break_holder] -->}<!-- [et_pb_line_break_holder] -->.horizontal-tab .et_pb_tab h3{ <!-- [et_pb_line_break_holder] --> color:#ffffff;<!-- [et_pb_line_break_holder] --> text-transform:uppercase;<!-- [et_pb_line_break_holder] --> font-weight:bold;<!-- [et_pb_line_break_holder] -->}<!-- [et_pb_line_break_holder] --><!-- [et_pb_line_break_holder] --></style><!-- [et_pb_line_break_holder] -->